Chimney Sweeping
We are a member of the Guild of Master Sweeps and HETAS and Gas Safe.
Our sweeps have techniques for preventing as much dust as possible from escaping whilst sweeping the flue and pride ourselves on a high standard cleanliness in peoples homes.
Chimneys need to be swept in order to allow free passage of combustion gasses. Regular cleaning will remove soot and creosote, helping prevent dangerous chimney fires. Cleaning will also increase the efficiency of some appliances and any bird's nests, cobwebs and other blockages will be removed.
We will require a clear passage to the chimney and adequate space to work in. It is best to clear ornaments from the hearth and perhaps the mantelpiece. If you have been using the fireplace for solid fuel we would be grateful if you could clear the grate of any fuel or ash before we visit.
If having as gas fire installed, it is Gas Safe Regulations to have the chimney swept prior to installation of a new appliance. We would therefore need to book you in for a sweeping and testing of the chimney to BS5871 standards. In order to test the flue we need to check the flue through its entire length to the chimney terminal. We need to ensure that the flue does not leak into any rooms above or into any other flues with in the same chimney stack. If we do find any leaks then we would advise you of the remedial works required to bring the chimney up to standards. This will generally mean that the flue requires lining. The cost of lining depends on the length and diameter of the liner and scaffold requirements.
Sweeping service we offer
Sweeping of chimneys with brushes to clean the flue and remove blockages and birds nests. We also carry special viper rods for sweeping of lined chimneys.
Integrity testing of the flue to BS5871 for the installation of new gas appliances in accordance with building regulations all flues must be tested and certified.
Integrity testing to BS6461 for the installation of a solid fuel appliance.
Updraught testing to check the draw on a chimney and to calculate the maximum chamber size that can be obtained from the flue.
CCTV camera inspections to inform of hidden problems inside the chimney.
Chimney stack repairs and reflaunching.
Fitting of chimney pots
Fitting of Cowls
Fitting of chimney balloons.
Gas Fire Installation
We specialise in gas fires and our gas engineers are Gas Safe Registered and very experienced in this field. We offer a free survey to estimate for installation of your gas fire, where we will go through in details the different options. If you have chosen goods we will check that they are suitable for fireplace and flue before you purchase.
Before any gas fire can be installed the flue needs to be swept and tested to BS5871.
Our engineer are all able to offer the service of sweeping and testing the chimney so we can offer this service at the time of the site visit to save having 2 appointments.
If you have already had this done by a registered sweep we will need to see the valid certification to check that it has been done to the correct standards.
If you do not have a gas supply at the fireplace we can estimate for running the gas supply. To install a DFE gas fire we would run an 8mm gas pipe into the centre rear of the chamber.
If you wish your own builders or gas fitters to run the pipework please ensure that they run the 8mm feed in the chamber (centre rear with 12" tail) and the maximum length of this pipe should be no more that 1.5m. The isolation valve can be in the chamber under the basket/insert and is there for servicing purposes only.
All gas fires over 7kw will require a vent of 100cm square free air to be installed in the same room as the appliance.
The hearth must be to building regulations, 300mm in front of the appliance and 150mm either side. The hearth should be raised 50mm above floor level otherwise a fender is required.
We are able to issue CP12 safety certificates on completion of installation.
Gas Fire Servicing and Repair
At Bespoke Fire Co, as well as being installers of gas fires we are able to service, repair and commission gas fire installations. Our gas engineers are Gas Safe Registered.
It is recommended that gas appliances should be serviced on an annual basis.
Our services include:
Gas Fire Breakdowns, e.g. Pilot lighting problems etc
Gas Fire servicing - (which should be carried out on an annual basis. We offer the facility to contact you on an annual basis to remind that the appliance is due for a service.
Flue Flow Tests and Spillage tests)
Flexible liners
Bespoke Fire Co has years of experience in chimney relining and we use the best quality flexible liners available. We generally use twin wall 316 grade stainless steel double skinned liners, which when properly installed, operated and maintained comes with a 10 year manufacture warranty. We always carry out a test core on each flue before we come to line the flue as we need to ensure what is the maximum size liner that will pass down your flue without obstructions. This way we can advise you on what is the best size opening you will achieve and the options available to you and suitable appliances.
Stainless steel gathers
We always use made to measure stainless steel gather hoods on our installations. They are made from 316 grade stainless steel and will be made to the exact requirements of your fireplace.
We offer a free estimating service for lining. We need to carry out a survey to check access and see if scaffold is required. If scaffold is required then you we are happy to organise scaffolding for you through scaffold companies that we have a good working relationship with.
Multi fuel flexible flue liner
Stainless steel flexible flue liners are designed for lining an existing flue or masonry chimney. Multi fuel flexible is a twin skin chimney liner designed for gas, oil and multi fuel, where the maximum flue gas temperature does not exceed 600°C. There are two grades available, 316L and a higher grade of 904L which is suitable for the extreme conditions found with coal based solid fuel installations.
316 or 904 grade stainless steel twin skin construction
For use inside masonry chimneys only
Class 1 multi fuel applications
Product Description
Both inner and outer layers are made from corrosion-resistant 316L stainless steel. 904L stainless steel is also available as an option for the extreme conditions found with coal based solid fuel installations
Corrugated outer skin for high crush resistance
Smooth inner skin resists corrosive attack due to easy drain down of condensate, less opportunity for soot collection and smooth surface for ease of sweeping
Inner skin remains overlapping to protect the joint from corrosion penetration even at minimum bending radius
Inner skin remains smooth and protective even after the rigours of installation
Regulations
Document J of the Building Regulations requires that a flexible flue liner can only be installed completely enclosed inside a masonry chimney. A non masonry enclosure such as timber or plasterboard boxing in is not acceptable. The type of flue liner permitted depends on the type of appliance and the fuel chosen to be used. Gas and Oil flexible flue liners are manufactured out of single strip 316 grade stainless steel.
There are two grades of multi fuel liner available:
316 grade stainless steel, which is suitable for wood burning and multi fuel use.
904 grade stainless steel, which is suitable for multi fuel and specifically coal based solid fuels
Prior to installation
The chimney should be inspected along with the external brickwork and capping/flaunching for deterioration and if necessary any remedial work should be carried out. The chimney should be swept, preferably by a suitably qualified chimney sweep who will provide a certificate after sweeping and checking, which should be retained for future reference.
Installation of the liner
The flue liner can be pulled up or down the chimney but generally they are pulled down from the roof. lt is recommended that short test section is pulled through the chimney prior to installation in order to ensure the chimney is suitably sized, and free from any obstructions. We would always recommend that flexible liners are insulated to aid the performance of the appliance and chimney system.
Fuels and appliance operation
Only fuels which are HETAS approved or recommended by the appliance manufacturer can be used. If burning wood, then it must be well seasoned for at least 12 months and not be any more than 20% moisture content to avoid creosote deposits building up within the flue way which can cause chimney fires.
If the appliance is slumbered overnight or for longer periods then it is advisable to run the appliance at controlled high fire condition for a period of at least 30 minutes. Prolonged slumbering of the appliance is a contributing factor to a liner failure especially when burning coal based solid fuels. It is important to maintain sufficiently high flue gas temperatures in order to avoid condensate and acid corrosion problems.
Household refuse must not be burnt.

Maintenance
Provision should be made for inspecting and cleaning the liner especially on multi fuel liners for solid fuel applications. The liner should be swept at least once a year by a suitably qualified chimney sweep. Chemical chimney cleaners which contain chlorine, fluorine or metal scarifying devices cannot be used under any circumstances and will invalidate your warranty. At Bespoke we have a viper system which is the best option for cleaning lined chimneys as standard chimney rods could damage the liner.
Life expectancy
Under normal operating conditions and providing the liner is installed correctly by a competent person, flexible liners should last the lifetime of the appliance.
Warranties
Gas, Oil and 316 grade multi fuel flexible liners carry a 10 year conditional warranty. 904 grade multi fuel flexible liners carry a 25 year conditional warranty. Contact us for further information. The conditions are that the flue liner is correctly sized, installed, and properly maintained, burning only approved fuels in accordance with the appliance manufacturer's instructions.
If you are wanting a fireplace but have no existing chimney we are able to supply and install stainless steel twin wall flue systems.
We have been installing flue systems in domestic properties for many years and our installers have full HETAS training. We offer a free survey and design service and will advise you on the best solution for your individual requirements. We will ensure that the flue is installed to the latest building regulations and advice on the best system to achieve the fireplace you desire.
It is possible to run the flue vertically then horizontally out through an external wall. In this case we would use an Exhausto extractor fan as shown in the drawing below. Again on some vertical flue installation we may advise that an Exhausto fan is necessary to achieve the fireplace you require.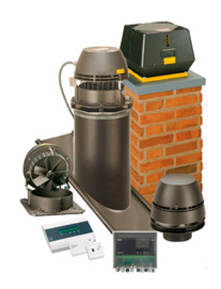 A chimney fan is a unit that helps maintain a smoke and odour- free indoor climate when you are using your stove or fireplace. Chimney fans are fitted to your chimney and ensure optimal draft irrespective of weather conditions and location.
Optimal draft in your chimney makes lighting and restoking solid fuel fires easier and stops smoke spilling into the room. It also ensures optimal combustion and prevents ash and dust being blown into the room.
The Chimney fan itself is an electrically powered ventilator. Its operation can be regulated using a control unit.
We are a main agent for Exhausto fans and can quote you to supply and install their products as well as service and repair.
Our engineer will arrange a site visit and take all your fireplace and flue dimensions and we will calculate the correct fan for your set up.
We have a range of vertical and horizontal discharge fans depending on where on your property is the best position to route the flue termination.
We link up the EFC21 fan control with our gas fires to offer you a one button operation on the fire and fan.
A chimney fans is the most effective solution, if there is insufficient draft in the chimney/flue. The chimney fans are easily installed on top of the chimney and they are made to withstand flue gas temperatures up to 250ºC continuously (with the exception of the RSG which is wall mounted). The fans are hinged for easy access for service, maintenance and chimney sweeping.
The chimney fans provide a controllable negative pressure along the full length of the flue and chimney. The chimney fans offer capacities which will cover any heating appliance from small domestic fireplaces to multiple boiler installations with a heat output up to 2MW using a single chimney fan.
System solutions for gas appliances have a built-in failsafe operation developed to meet international standards.
Pressure Testing of Flues
Pressure testing of flues, we carry high tech equipment that enables us to pressure test to check if the flue is leaking into other areas. This test is generally carried out when there is no access to other properties above. The chimney is sealed of at the top and bottom and a pressurised test is carried out. The machine will give a print out showing pass or fail of which a print out can be given to the customer.
CCTV Inspections
We have 2 different types of CCTV cameras offering our clients an exceptional advantage in the latest technology. We own the Wohler equipment below which is a German manufacturer and is specifically designed to be used form the roof down to inspect the flue and is used in conjunction with the Wohler viper system.
We also have a second system which is better used from the fireplace upwards. Both devices offer the opportunity to view the whole flue on a monitor and to record the coverage so we can send copies to our clients.
We will carry out a survey to measure up you existing fireplace and check that the goods you have chosen are suitable. We may need to enlarge the opening size or reduce down the opening size and will estimate for the relevant works required. If you are having an open chamber fireplace we recommend a throated lintel is fitted which we will estimate to supply and install at the same time as the fireplace. If our chimney sweep has not already been to carry out a full survey of the flue we can do this at the same time as the fireplace survey. Our fireplace installer is fully HETAS trained.
Your installation will be carried out by the person who carried out your home survey so that they will be fully prepared for the work required. The installation will
normally be completed in one day although sometimes a second day will be required. You will be advised of this when your survey is carried out or on your estimate. You will also have been advised of any furniture you are required to move and if you need to roll your carpet back from the fireplace.
Your installers will dust sheet your room and passages to protect your furnishings. Removing an old fireplace can be dusty but we will endeavour to keep any dust and disturbance to a minimum.
You will need to arrange making good and redecoration of the chimney breast by others.